Everything Goes Bag by Brenda Miller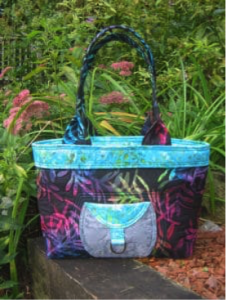 Brenda Miller, Everything Goes Bad
Brenda's hobby became a passion for designing patterns for functional handbags, specialty bags, quilts, home decor and more. She teaches classes online and at her shop in Strathroy.
Brenda started sewing early in her life, before she found her own passion for bag and quilt design. She enjoyed making quilts from patterns other people had designed. Today her focus is creating bag designs.
We look forward to hearing her journey through art, quilting and design. Read more about Brenda at
https://amongbrendasquilts.com/about/
IMPORTANT WORKSHOP INFORMATION
Brenda's workshop to be held on October 22, 2020 is the "Everything goes Bag". You can view it at https://amongbrendasquilts.com/everything-goes-large-handbag-pattern-abq-159/.
If you plan to sign up for this workshop at our September 16 meeting, please note the cost of the workshop is $50 and that day is your only day to register unless you choose to register on line before September 16. The maximum number of participants is 15 for this workshop.
This workshop must be full in order to run. If we do not have 15 people registered for the workshop by September 16th, the workshop will be cancelled.
DO NOT BUY ANY SUPPLIES for this workshop until we announce at the  September 16 meeting whether the workshop will proceed.
If the workshop will proceed you need to:
 ORDER from Brenda's website the following:
Pattern $10.99
D rings (available in class) $3.49
Two bag zippers, one 14″, one 22″ (available in class) $4.59 and $4.99
.7m Pellon Fusible Fleece $10.99 pkg. 22"x 36"
1 package 18″ x 58″ Fusible Foam Stabilizer $18.99
you need to cut out your own choice of fabric, fleece and stabilizer BEFORE THE WORKSHOP. This is very important if you are to complete your project and learn from Brenda.
She will be bringing the zippers (39 colors) and D rings (antique brass or nickel) to pick out during class.
If you have any questions please email Pat Andres at pat.andres54@gmail.com OR call Brenda Miller at
519-914-0523 or email brenda@amongbrendasquilts.com
Date/Time
Date(s) - 22/10/2020 - 23/10/2020
8:30 am - 5:00 pm
Location
First Grantham United Church
Bookings