Bargello Table Runner by Louise Hamilton
Louise was raised in Tavistock and recently moved to Mitchell following her marriage to Steve Eckert. She comes from a background of quilters and  as a child she enjoyed those made from previous generations. While raising her 2 children Louise found that the art of quilting was and is therapy. She says it calmed her in life's storms. During her 20 years of quilting Louise explored many types of quilting including hand quilting, hand tying,  domestic machine quilting and now long arm quilting. She still works for Cherished Pieces teaching and long arming for their customers. Her own business is called "Purple Rooster Quilting". Louise will generously share her learning experiences with us as she believes that "we are all here on earth to share"
April 16, 2020
Workshop
Louise will teach the process of making a Bargello Table Runner. Please drop by the workshop table for more details.
Register by filling out the form below or download the form and mail it back to us.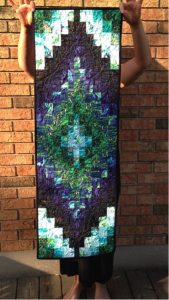 Date/Time
Date(s) - 16/04/2020
9:00 am - 4:00 pm
Location
First Grantham United Church
Bookings
Bookings are closed for this event.