Guest Speaker: Toni Major – My Journey into Art Quilting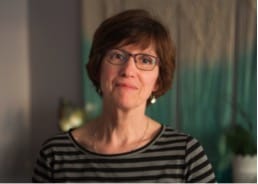 My attraction to fabrics began as a young girl, learning to sew at school and from my mother at home, eventually sewing tailored suits and coats and teaching sewing classes.
Art classes in high school inspired me to learn pottery and painting. After a decade of potting in my own studio my interests evolved into quilting and textile arts, which now includes fabrics, paint and stitching.
As a member of Studio Art Quilts Associates (SAQA), an international organization, I regularly submit work and am honored to have a juried art quilt in the permanent collection at the National Quilt Museum in Kentucky. 
My participation in local and regional SAQA groups and international conferences spurs my creativity as there is always something new to learn.
My work has travelled throughout Canada, Europe and the USA.
Inspired by natural settings, I create texture and color using hand-dyed and commercial fabrics and materials, adding paints and stitching by hand and machine.
Date/Time
Date(s) - 26/10/2022
7:30 pm - 9:30 pm
Location
Royal Canadian Legion - Branch #613