Workshop – Let's Get Crazy by Fran Inglis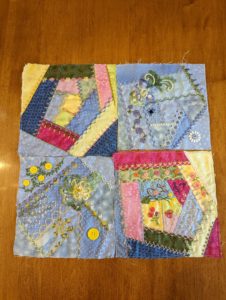 Create a sample crazy quilt block at this workshop to learn techniques for future  crazy quilts.
Crazy Quilt  Workshop  Supplies List
Sewing machine in good working order and regular sewing equipment ie., scissors, rotary cutter and mat, smaller quilt ruler etc.

Neutral thread (grey or taupe) and two prewound bobbins
I'm going to suggest that if this is your first crazy quilt block, limit your colour choices.  It will be easier for you.  You will have seen that my samples are only one colour but worked with several different colours of embroidery threads.  This is to show you that you can work with limited colours and still create a very pretty block.  Later if you love this work you can create all kinds of different blocks and have fun with the colours you put together.
You can use various types of fabrics if you wish, but I would recommend you use COTTON.  You probably have what you will need on hand and it is very easy to work with.  My samples are made with cotton.
 3" strips of one colour fabric but several different fabrics.  Have at least 8 strips.  Avoid loud prints…think blenders rather than patterns.  Textures are excellent.  Your embroidery will not really show up on a busy print!  Make sure some are light, some medium and some dark.
Some embroidery flosses in several colours…have some fun here!  Match or contrast..it doesn't matter but do think light, medium and dark!
Any embellishments you have:  buttons, charms, ribbons, lace, beads (it is unlikely you will get to the beading stage but it will be fun to see what you find!)
A Frixion pen that comes off when ironed is very helpful.
A small ruler or quilt square ruler (6").
You may wish to use a small embroidery hoop but your block is only 8 ½ inches so please bring a small hoop.
BE READY TO HAVE FUN…YOU CAN NOT DO THIS WRONG AND WORKING ON THE BLOCKS
HAS A ZEN LIKE FEELING.  SEE YOU THERE!
Date/Time
Date(s) - 24/11/2022
9:00 am - 4:00 pm
Location
Royal Canadian Legion - Branch #613
Bookings
Bookings are closed for this event.