Workshop – Design Challenge Workshop by Elaine Theriault
Design Challenge Workshop
Challenge yourself
This workshop will take you on a journey of discovery with no rules and no guidelines. Working with elements from your stash (fabric, embellishments or whatever), we're going to learn how to let those items speak to us. We'll learn how to create a one of a kind SMALL quilt (art piece). We're going to uncover the secrets of creativity and how to find inspiration in everything around you. We're start the process working in a group and then you'll each work on your own individual piece.
What to bring:
Sewing machine in good working order (some of you may not get to the sewing part)
Basic quilting tools – rotary cutter, mat, ruler, scissors, seam ripper, etc.
Fabric – you may have a piece (s) that you have no idea what to do with – could be a special memory item (piece of clothing), ribbon from the fair, favorite pets' old blankie, could be a bundle of FQs. If you bring an item, bring some extra fabrics that may or may not go with it. The fewer choices you bring, the more restrictive we are, but we don't want to bring our entire stash either. Maybe your focus will be on working with a color that you don't normally use. In that case, bring bits and pieces of stuff that are the same color. There may be room for trading some of the bits here as well. I will also bring my bags of odds and ends that are sorted by color.
Bring some muslin or some other kind of fabric that could be used as a foundation (in the event that we have to pin your project onto as we go).  Therefore, you also need to bring pins.
Embellishments – could be anything – buttons, bows, ribbons, pieces of jewelry, string, wire, netting, you name it – we can use it.
An OPEN MIND and willingness to experiment
Some tips on how to choose what to bring
Choose a specific color to work in and bring some fabrics (quilting and NON-quilting items – like paper, ribbon,) and embellishments in that one color.   This is the EASIEST way to pick what to bring!!!!
Choose a theme – could be a vintage theme – bring laces and old-fashioned buttons
Choose a style – going to make something but NOT using any quilting fabric — maybe you are going to use burlaps, and drapery fabrics, ropes and cording????
Choose an event – you've won 100 ribbons at the fair – now what do you do with them????  Bring the ribbons, bring some fabric that could go with the ribbons.
Choose a game or pick a word and bring fabric/ things that relate to that word.
If you're having trouble, I'd be happy to help you choose a theme. Just remember that choosing a color and working with things of only that color is the ABSOLUTE easiest way to go about this process.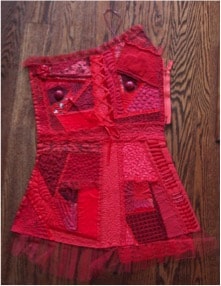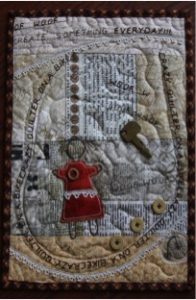 Sample made of all things Red.   Starting point of this piece was key
                                                            Mostly browns/beiges were used.
Date/Time
Date(s) - 23/03/2023
9:15 am - 4:15 pm
Location
Royal Canadian Legion - Branch #613
Bookings
Bookings are closed for this event.