Workshop – Fabric Collage and Thread Painting by Ludmilla Charest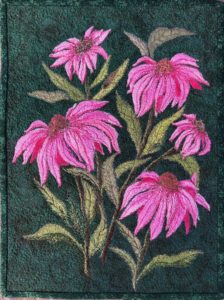 Ludmila Charest
Ludmila Charest moved with her family to Niagara 8 years ago from Thunder Bay. She started to quilt after visiting the very inspiring Houston Quilt Show in 2009. Ludmila tried traditional techniques but became more interested in fabric and thread collages. In 2019, she also attended interesting quilting shows in Tokyo, Birmingham and Houston. This past summer she went to quilt shows in Toronto, Ottawa and Vancouver .  She has created 7 international travel quilt projects, whose purpose was to show people around the world the amazing diversity of Quilting.
Flowers "Echinacea" Workshop Description
In this workshop Ludmilla will explain how you can make any picture using fabric and thread. She will show over 20 quilts as examples and demonstrate step by step instructions for this amazing fabric and thread painting technique.
First, she will start with instructions on how to lay out the quilt.This includes cutting pieces and arranging them into a picture.
From there Ludmilla will demonstrate how the pieces that make up the quilt are held in place while quilting.
 Together as a class, you will take a discovery journey as you explore the beautiful results that can be obtained with the use of different thread colours. 
While all quilters may not be able to complete their project within the time allotted, they will leave with the knowledge and skill needed to complete their piece at home.
Ludmilla Charest Supply List January 26
Flowers "Echinacea" Fabric Collage and Thread Painting
Good fabric scissors
Any batting 40x50cm
Pink Fabric 20×20 cm
Green Fabric 40×50 cm
Dark backing cotton 40x50cm
Green fabric lighter piece 20x20cm
Fusible iron-on interfacing 40x50cm
Pink and green quilting thread
Sewing machine and pins
Date/Time
Date(s) - 27/04/2023
9:00 am - 4:00 pm
Location
Royal Canadian Legion - Branch #613
Bookings
Bookings are closed for this event.